Zombs Royale is a Two Dimensional or 2D Battle Royal game. This Zombs Royale game was available on these platforms "Web browsers, Android, iOS, and the Google Play Store. It is a multiplayer survival game and it was an action-packed game. This game was developed by Jeremiah and Yang offered by End Game and it was released on 16 May 2018. On 19 October 2021, this game was updated on the play store. The size of the game at the play store was 153 MB. It is the best free 2D 100 person real-time battle royal game on mobile. From the creator of spinz.io and zombs.io comes one of the most fun and adrenaline-filled battle royale games.
The game has 1000 unique character cosmetics unlocked via in-game coins, however, some items will be available on purchase. Every season will last a few weeks and grant exclusion cosmetics unique to each season depending on your performance. Complete challenges you will be able to gain rewards at a much quicker pace.
GAME MODES: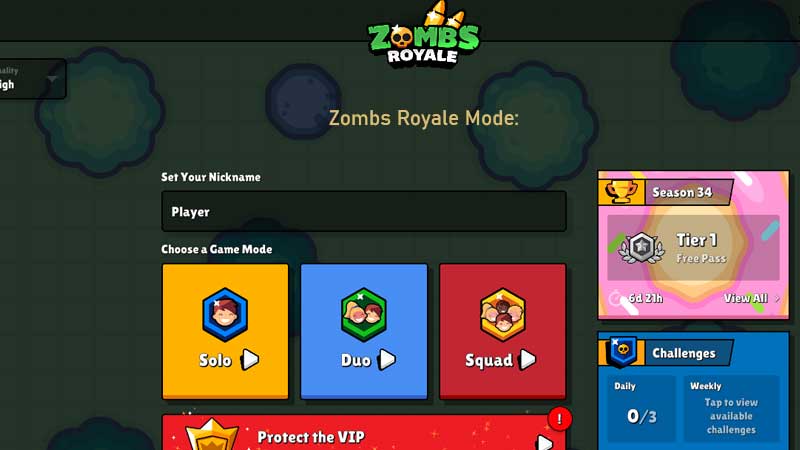 SOLO: In solo mode, you will play against 99 solo players in the fight; the last standing one will be the winner.
DUO: Play with your friends or random players and win the match.
SQUAD: In the squad choose 4 players and play against another squad.
LIMITED-TIME MODES:-
The limited-time modes change every few weeks. Some of them are,
ZOMBIES: Team up as a squad to win other squads while having to deal with hordes of zombies.
50 v 50: If you are not satisfied with a 4 player squad, battle a team of 50 while being put on a team of 50 yourself.
SUPERPOWER: Defeat other players and collect power-ups, move fast, shoot further.
WEAPONS RACE: Small map, no loot, defeat opponents to level up your weapons.
CRYSTAL CLASH: In the 4 v 4 squad, select your loadout and be the first to destroy the opposing team's crystal to win.
Zombs Royale Game CONTROLS:
W and S Keys – For forwarding and backward movement.
A and D Keys – For to move left and right.
M or Tab Key – For to view the map.
E Key- To interact.
Left-click on Mouse – To shoot the enemy.
Right-click on Mouse – To open the emoticon list.
R Key – To reload the weapons.
Zombs Royale GAMEPLAY:
This is similar to all shooting adventure games. Open the Zombs Royale game and log in with your email ID or with the Facebook credential. After that choose the game mode with your choice of mode. After choosing mode the game starts. The player landed at a particular location using the parachute.
Zombs Royale – Solo 24 Kills – Reference Video
After landing at a safe location, we need to take a gun and the supplies to the surrounding area. Throughout the map, various weapons and resources are available. And kill the other players and win the match. The loot box includes weapons, potions, and ammunition. Daily and weekly rewards are available for the players and you will receive special coins or cosmetics for the character when winning the match. Climb to the top of the leaderboards to show that you are the best. See how to stack up against other players in eliminations per match or time survived.
Took all ranges of guns like short, Mid, and long-range.
BEST GUNS: Pump shotgun – best gun for killing at short range. A tactical shotgun, MP5, or AK is best for the medium range.
Zombs Royale Discord, Reddit Official Links:
Zombs Royale Discord Link is – Click Here
The Reddit Link is – Click Here
Zombsroyale.io SIMILAR GAMES:
These are the similar categories game like ZombsRoyale,
And overall rating from the famous site "Crazy Games" is 8.9 out of 10 and Google Play Store rated 4.3 stars. Zombs Royale reached 50 million Downloads WorldWide.