Slither is an online game available in ios, android, and web browsers. It was developed by Steve Howse and published by low-tech studios. It was an online video game and had a multiplayer mode feature. The genre of the game is "action, multiplayer game, and also a casual game".
Slither.io is most similar to the agar.io game and this agar.io game is available under the browser's platforms. The game's release date is March 2016. Slither.io is popular in the io snake game. Even though the game has multi-players it is not possible to play with your friends. In multiplayer mode, you can play with unknown persons or global players.
Slither Game Controls:
On the mouse move your cursor to control the direction of your snake. Click to go at full speed. UP arrow key for full speed, LEFT arrow key for turn left, RIGHT arrow key for turn right.
Arrow mode: In arrow mode, Players can use fingers to turn in a particular direction.
Classic mode: In this mode, players can tap or scroll on the screen to rule the snake. If you want to move in a particular direction then scroll to a specific direction.
Joystick mode: In this specification mode, a player can move that snake with the help of a joystick device.
Slither Gameplay:
The gameplay of slither.io is simple. You must grow your snake by grabbing multi-colored orbs in a giant multiplayer arena. Avoid these mad things while you playing the game "Stealing food from opponent players snake, or else taking other players down by forcing them to crash into your side.
Like other classic games, snake game slither is available on cell phones and computers. The glowing orbs or pellets are your key to sustenance. By eating them, you increase the snake size and gain more energy.
When you start the game don't try to run into the bigger one. Speed is important in this game. You can increase your speed by grabbing more pellets. There are two special orbs or pellets available in this game. When a snake dies, they drop all their glowing pellets. The bigger snake that falls, the more plentiful the harvest. Trove or finding these "orbs" early can grow or massive your snake quickly.
Slither.io Game Features:
Decorate your snake with 12 different skins and it's available in the "change skin" option. And available on the front page itself.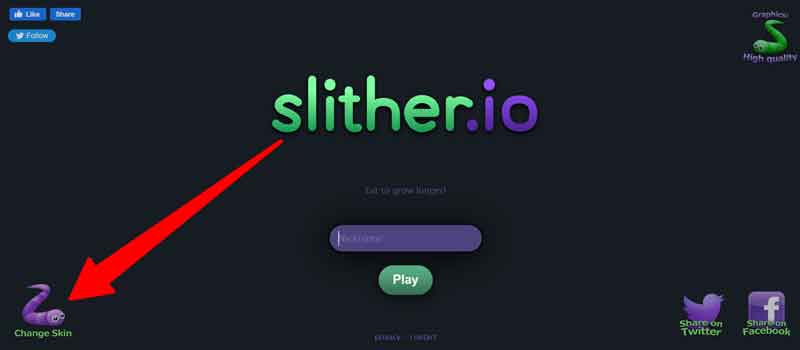 Per missed to play Raw, Competitive matches with various players globally.
Millions of opponent players worldwide, there's is no shortage of matches.
Terrific Graphic Design "colorful, neon graphics bring you a better experience with this game.
Download:
You can download slither.io from the Google Play Store. And the download size of the Slither.io game is (17.23 MB). Or Else, you can play the game on online browsers like Google Chrome, Firefox, MicroEdge, and more.
Slither Discord, Reddit Official Links:
SLither.io Discord Link is – Click Here
The Reddit Link is – Click Here
Slither Similar games:
Comparable games to this famous Slither.io Video game is
Worm zones
Paper.io 2
Powerline.io and more.
Game Rating:-
The overall rating from the Google Play community is a 4.1-Star rating out of 5 Star at the Play Store App.