As we know, using the Google platform – we can perform various features and effective support that can be highly beneficial for any business growth. Likewise, Google represents Google Sheets which endures to take lead from opponents in education, small businesses, and startup space.
To be known: This platform is absolutely free and helps in sharing seamless appointments and schedules as per the needs. This Software is available with a bunch of templates, here- just pick your own template and start updating them in no time. Utilizing the Google Sheet Calendar templates is grabbing attention & in-demand. In accordance with this, one can easily generate a forthcoming monthly calendar and provide you best source to share with your friends, family, or colleagues.
Social Media Content Calendar – Google Sheets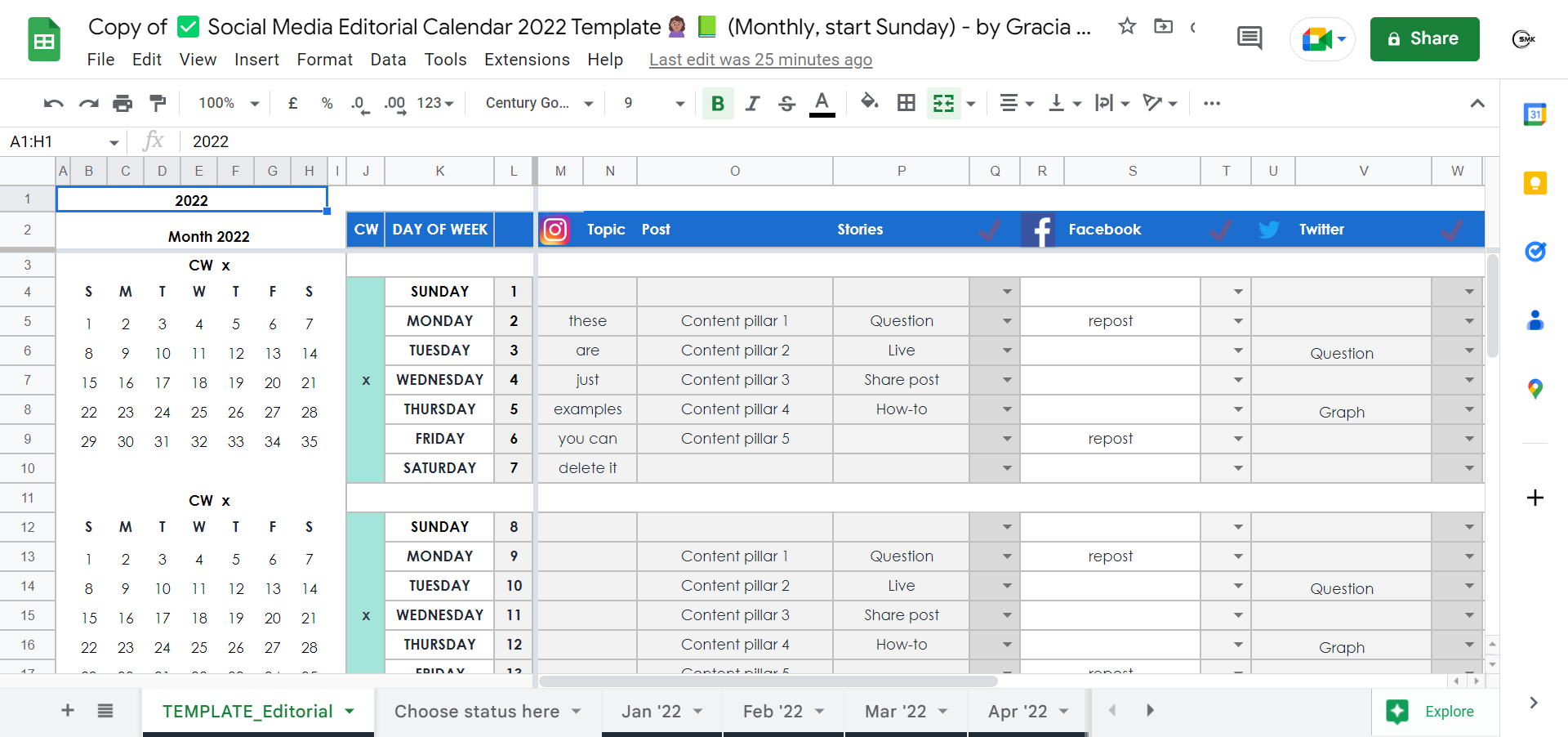 This template is used to organize the content on multiple social media platforms.
It supports combining all the networks into one calendar, and lets you generate or create an in-depth publishing plan throughout the entire day.
Furthermore, getting back to the social media efforts in one template makes it easy and aids in balancing both posting content strategically and balancing all the platforms.
It also guides you to look-up audience engagement and gives you an idea to run social media in the most effective way.
Note: Select the corresponding link below. These templates will be sent to you and stored immediately in your Google Drive.
Editorial Calendar Template – Google Sheets
If you are an IT employee or persist in any business? Here, you have a smart thing to organize your workspace in an even better way.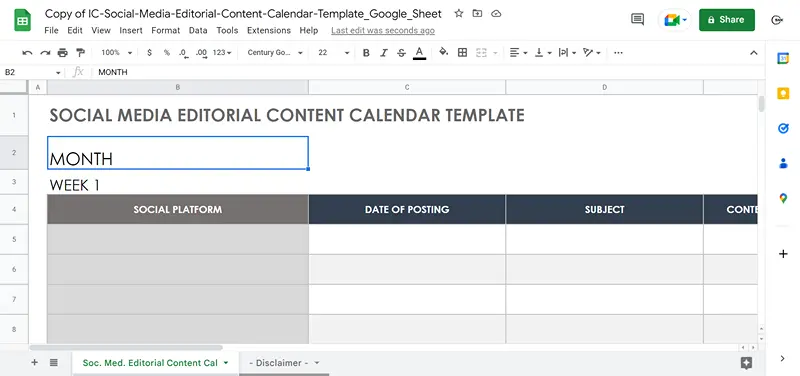 Initially, organize the editorial calendar with this Google spreadsheet calendar template.
You need to add the annual overview for a broad look at long-term goals and urgent dates in a detailed, monthly view.
Every month, you have the option to organize projects by date and that may include chief preferences like goals, target audience, deadlines, ownership, metrics for success, and related.
Generating an editorial calendar can get you the team effort to support & boost-up creativity and assured accountability for accomplishing project deadlines.
Note: The templates below are only for viewing and are not editable. To use the below templates, create your own copy or download the template. In the menu, just choose "File" –> "Make A Copy."
Project Timeline Template – Google Sheets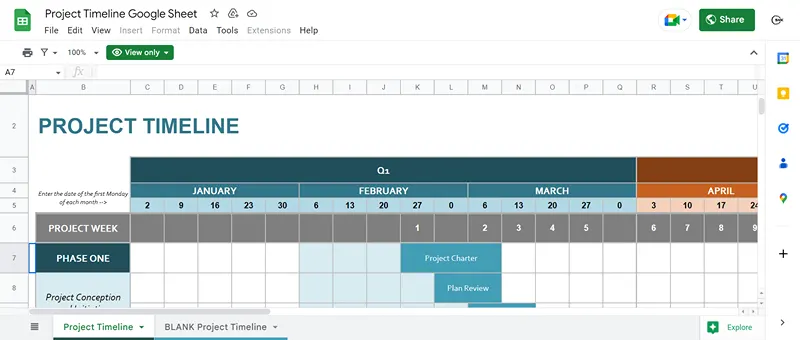 Project Timeline Templates can represent you with the best plan for your project management schedule using a Gantt chart in order to bring a visual timeline of tasks.
Alternatively, you even have the option to use the spreadsheet to trail progress and to get the list of details about each task, counting owners & deadlines.
When it comes to the Gantt chart, it can give you an easy action to inspect the duration of each task and how phases of a project overlap.
Finally, supports performing weekly schedules for an all-inclusive project timeline.
Employee Calendar Template – Google Sheets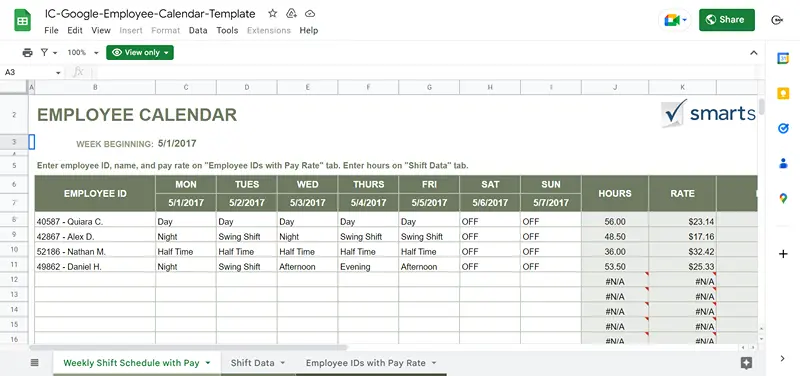 First, you have to generate the employee schedule for each day in a week using the details like employee names, hours worked, pay rates, and shift modes.
Utilize this calendar for planning shifts, handling payroll, and chasing employee attendance.
An employee calendar template is a very useful tool for HR managers or small business owners who are required to coordinate multiple shifts and support to pay the rates without any complex software.
Weekly Calendar Template – Google Sheets
If you take this Google Sheets calendar template which may include features like columns for each day of the week, right from Sunday to Saturday.
Choose the starting date for the week, the starting hour for each day, and most importantly the time interval, and this will make the template automatically update to generate a weekly calendar tailored to your needs.
Finally, here you have the time interval which can be set for a minimum of 10 minutes to get you a detailed breakdown of each day.
Google Sheets Yearly Calendar – Portrait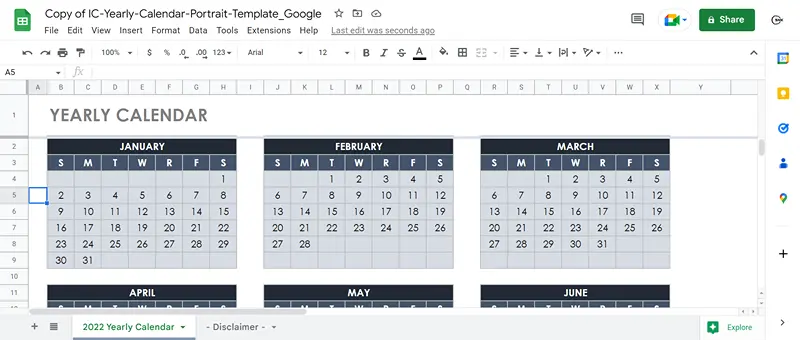 Utilizing this template, you can efficiently verify the complete year in a single sheet in a portrait layout – which is quite user-friendly & handy when you require a quick view in the future.
Using this calendar, you can also get ample space for confidential documents.
Hence, it is a printable template, which can give you a chance to make a snapshot of the year without occupying too many spaces.
Google Sheet Yearly Calendar – Landscape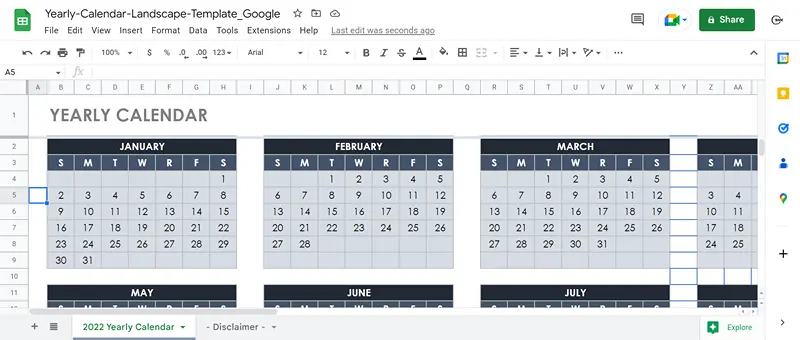 While using this Google Docs calendar template, can give you the basic calendar view, in landscape format, for each month of the year.
Whereas, this Google Docs template can support you to scroll down to verify the future months rather than converting between spreadsheets.
If you are attempting a print work using this template, you can select a single month / entire year.
Calendar with Holidays – Google Sheets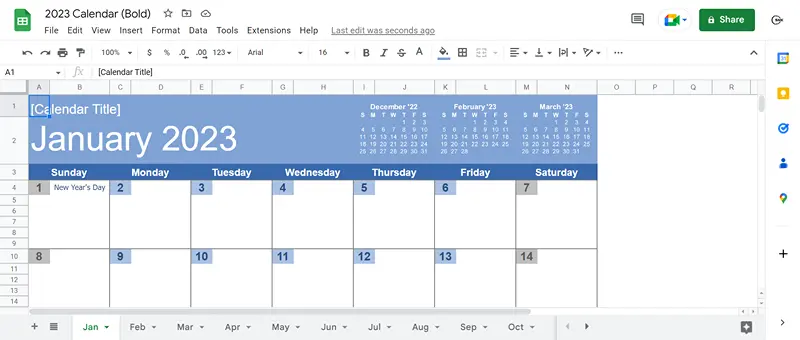 You require an annual calendar with holidays, this template can provide an annual view, along with distinct calendars for each month.
On the other hand, it supports getting you a quick overview of the year and gives you enough space for daily and monthly planning.
In accordance with the holidays, you have a section for notes through which you can highlight important events for your remembrance.
Daily Planner Template – Google Sheets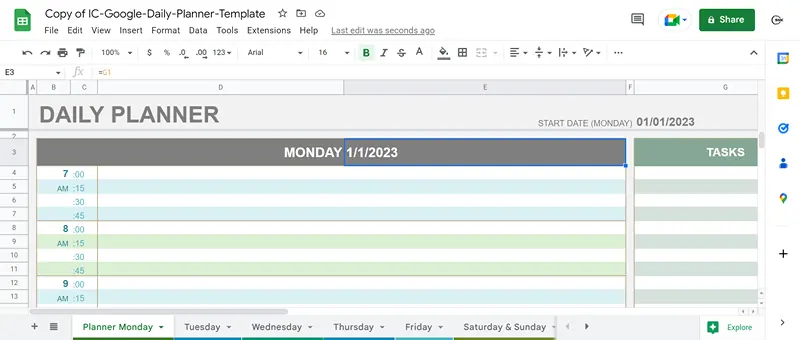 If you expect more space/ room for daily planning and organization, this particular planner breakdown down each day into 15-minute intervals and embraces added space for notes.
You have the option to view important appointments, meetings, events, and related requirements.
Hence, the daily planner is crucial for organizing both home and work tasks in aspects like setting goals, planning projects, and recording important dates.
To-Do List Template – Google Sheet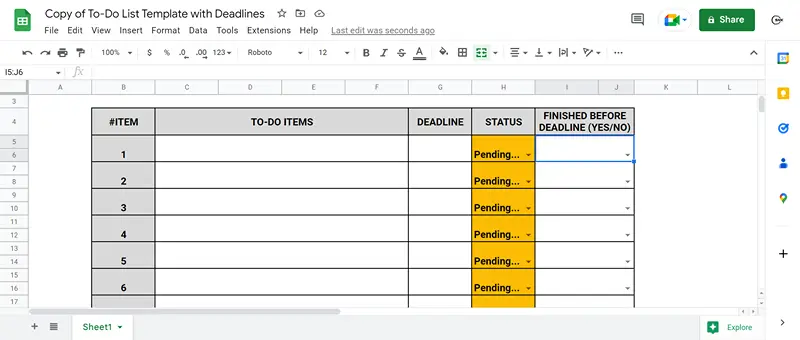 Using this Google Sheet calendar template, you can easily implement basic to-do lists.
The checklist can give you due dates for each task, so you can effectively schedule and arrange items and mark them when finished.
Where, this is quite simple, a printable tool for producing any type of task list.
Phases of the Moon Calendar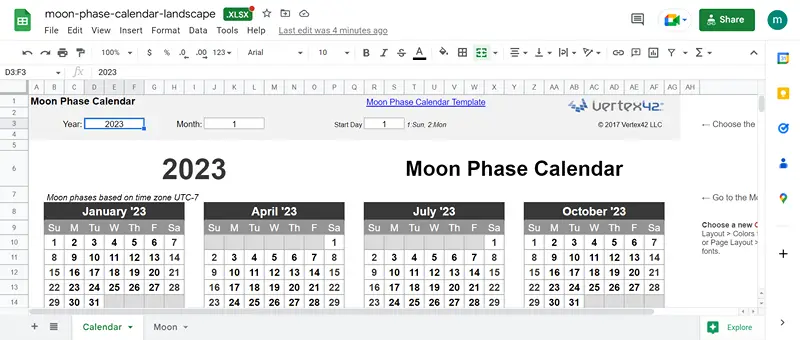 In accordance with the name, the Moon phase calendar gives you the phases of the moon in a complete month and date. Which can be more information for some users to track the periodic information regarding the moon phase throughout the year.
As a substitute for relying on third-party apps to inspect the moon phase for the day, you can download this Google Sheets calendar template and trail everything from a single page.
Turn ON the Moon Phases data and inspect the previous year's records till 2017.
FAQ
How do I create an annual calendar in Google Sheets?
If you look at the template's top of your main Google Sheet page, pick the "Template Gallery." If you couldn't see the new templates, tap the plus sign on the bottom right and select "Choose Template." Access via the Personal section of the templates and select the "Annual Calendar."
Can you put images on the Google Sheets calendar?
Other than supporting the fill of your calendar, each time a new row is added to Sheets, it can automatically generate a new Google Calendar event. I will be glad, If it's not so difficult to put images on a calendar in Google Sheets — and everywhere else.
What is the single-sheet version of the calendar template?
Here, you will be finding a section that will find a single-sheet version of the Google Sheets calendar template. Using this particular template, you can get the entire year on one single sheet. Eventually, it consists of three tabs / three full years (currently 2021, 2022, and 2023). Finally, the templates are great for viewing periodic trends and color coding stated days/weeks.
Is there a calendar for Google Sheets 2022?
Access through the 2022 Google Sheets Monthly Calendar – Landscape This monthly calendar option is formatted in a landscape view. Can give you days in a week from Sunday through Saturday, and there is room for notes just at the bottom of the template. Hence, this is an easy monthly calendar that can give you any type of schedule planning.
Why are Google Sheets calendar templates so popular?
When it comes to Google Sheets, it consistently takes lead from opponents in education, small businesses, and startup space. whereas, it is absolutely free, and platform-agnostic, the sharing is seamless, and the software can be accessed through a bunch of templates. As per this, Google Sheets Calendar templates are very much in demand at present.