Paper.io 2 is a real-time peculiar game series by Voodoo games publisher. This game gave a smooth drawing experience to the player. And this game is featured a multiplayer mechanism. Voodoo is the creator or developer and publisher of paper io 2.
This game was backed by this platform's "Windows, iOS, and Android Users. You are permitted to install this game from the Google Play Store. And you can play this game on an online Browser like Google Chrome, Firefox, and more. In Google Play Store, the Voodoo community recently updated this game with the new version on 6th August 2021. Voodoo publisher permitted users or players to paint the map with their own color to take over the paper.io world series. The genre of the game series Paper.io is "Arcade".
Paper io 2 Controls: (Handling-User Manual)
Users or Players are per missed conveniently to use the WASD key or the Arrow keys to Handle the snake.
W and S – For the action, Forward, and Backward movement.
A and D – These are two keys to move left and right direction.
Paper io 2 Gameplay:
In the System or Windows, use your mouse to move around and cover the map with color. On a mobile phone use your finger and scroll around on the screen to cover the color on the map. Move over the white empty space and other players paint and create a connection back to your start point to cover the area.
When you are moved out of the color you might be in the danger zone, and have a chance to crash with other players. You can kill other or opponent players by hitting their tails. You can claim the entire map and work from the outside in the game.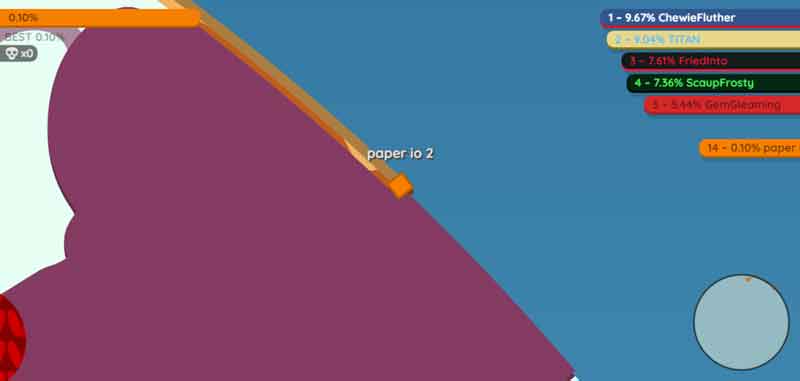 Paper.io 2 Similar games:- (Relatable games)
There are so many io games are like paper io and those games are
Also Read:
Tic Tac Toe Online Two Player Game Free on Pc and Mobile – Gameplay
Zombsroyale.io Online Multiplayer Game Free on Pc and Mobile – Gameplay
Rating Note:
This game received a rating of 8.9 percent on a crazy game site and its browser platform. And it reached 10 Million and more downloads on Google Play Store App and it was graded with 3.8 stars out of 5 stars.
Paper io 2 Video